320 P5 ac – 325 P5 ac
Technical characteristics
Model: 320 P5 ac – 325 P5 ac
Capacity: 2500 kg
Lifting: 120 mm
Use: Inside
Description
Power pallet truck with ride-on operator designed ad projected with the new ac technology which allows to optimize the energy saving, the performances and the efficiency thanks to compact dimensions which improve the manoeuvrability and the working operations in narrow spaces.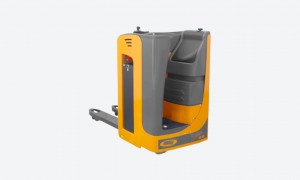 Low lift and pallet stackers with ride-on operator
Technical characteristics
Model: VIRTUS 20 RX ac Capacity: 2000 kg Lifting: 120 mm Use: Inside
Description
Low lift power pallet truck with lean-on operator. Transversal electrical servo steering. Suitable for horizontal handling over longer ranges and for loading and unloading operations. High capacity battery ensures a good working autonomy.
Technical specifications