716 K ac
Technical Characteristics
Model: 716 K ac
Capacity: 1650 kg
Lifting: 5400 mm
Use: Inside
Description
Lifting heights available from 1.650 mm to 5.400 mm and more on request, traction motor and electronic control ensure maximum manoeuvrability and economy during working operations. Available with lifting and lowering by joy-stick on tiller arm. Thanks to its manoeuvrability and compact dimensions, it can be used in all commercial fields. The standard battery (24V 270Ah) grants an optimum autonomy for extended applications.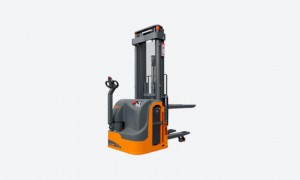 Pallet stackers pedestrian controlled
Technical Characteristics
Model: 716 BMK ac Capacity: 1600 kg Lifting: 5310 mm Use: Inside
Description
Initial lift of legs, pallet truck function to overpass small irregularities in the floor. This system also allows to reduce the horizontal transport of the loads, in fact two loads can be handled simultaneously. Masts available in simplex, duplex and triplex full free lift with a maximum lifting height of 5.310 mm.
TECHNICAL SPESIFICATION